Solar Thruster Sailor (STS) - Figīs (Fig 6) -
- Đ Frank Ellinghaus -
Fig.1 - Fig.2a-2b - Fig.2c - Fig.2d - Fig.3a-3b - Fig.4a-4c - Fig.5 - Fig.6 - Fig.7 - Inner Ring - Flying Ring - Fig.8 - Fig.8a - Fig.8b - Fig.9 - Fig.9a - Fig.10 - Fig.11 - Fig.10 - Fig.11 - Fig.13 - Fig.14-15 - Fig.16 Mobile Thruster Unit - Fig.17 - Fig.18 Fuelless Steering - Fig.19-21d Solar Sail Launch System
Fig. 6 - EFO - Experimental Flying Object for scientific studies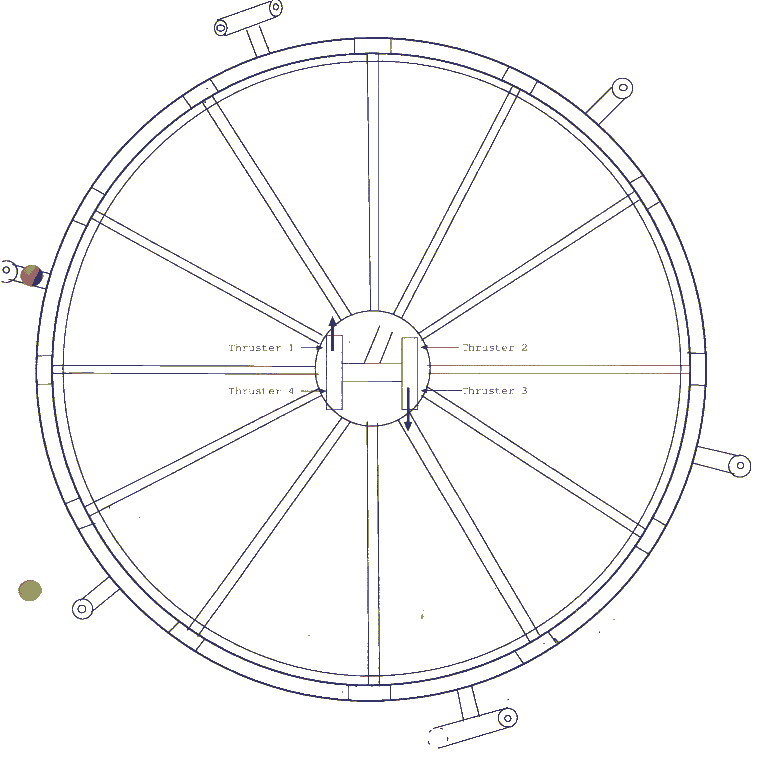 Space craft with a thruster ring of more than 10000 m diameter. The thrusters mounted at the center of the disc provide an theoretical speed lever of 10000 or more. If we hadnīt the theory of relativity this craft could spin as fast that itīs outer points reach or pass light speed.

The EFO is also a gigantic gyroscope as well as an flywheel, bringing rotational speed and size, orders of magnitude above all gyroscopic devices. With the absence of friction this is an ideal invention for rotational studies were concentrating on rotational and gravitational forces is possible.
With this device scepticists and believers of rotational anti gravity and the theory of relativity could work together to prove their opinions. We also could find out some things we donīt know or assume yet.
to the next Fig. 7
Fig.1 - Fig.2a-2b - Fig.2c - Fig.2d - Fig.3a-3b - Fig.4a-4c - Fig.5 - Fig.6 - Fig.7 - Inner Ring - Flying Ring - Fig.8 - Fig.8a - Fig.8b - Fig.9 - Fig.9a - Fig.10 - Fig.11 - Fig.10 - Fig.11 - Fig.13 - Fig.14-15 - Fig.16 Mobile Thruster Unit - Fig.17 - Fig.18 Fuelless Steering - Fig.19-21d Solar Sail Launch System